10 alternative
B2B contact databases
to ZoomInfo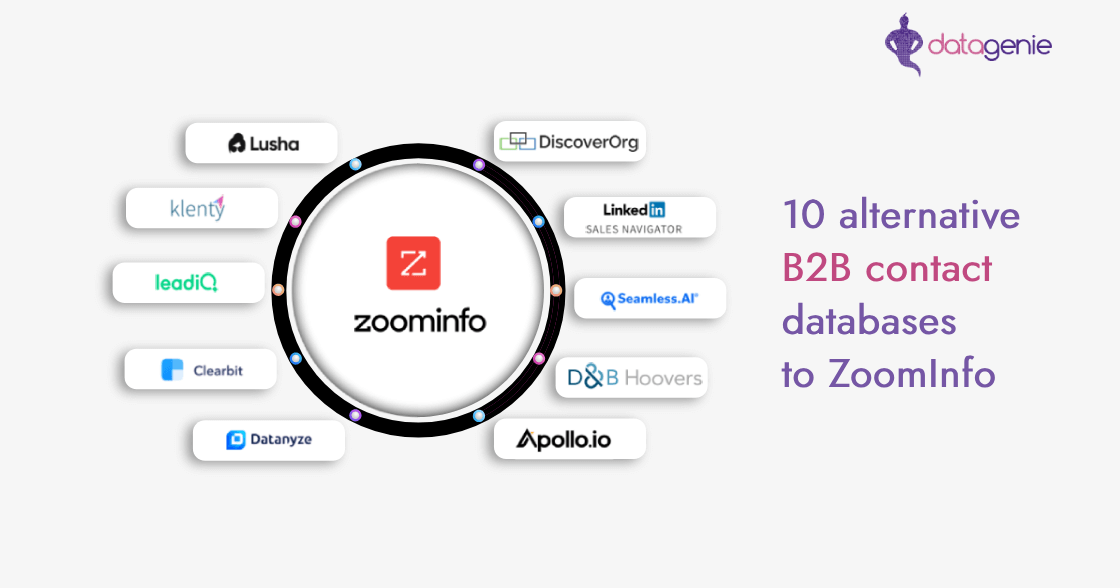 Having accurate and up-to-date B2B contact data is crucial for making informed marketing decisions and successfully closing deals. Until relatively recently the provider of choice was ZoomInfo, a  hugely successful vendor of B2B contact data but with flaws that had to be overlooked because of it's monopoly over market share.
ZoomInfo is one of the leading B2B contact database and sales intelligence platforms, with over 14 million businesses and 200 million contacts worldwide. They are a publicly traded company and pioneer of the space. However, based on many user reviews (easily found using a Google search), ZoomInfo often falls short in terms of data accuracy and has, according to one reviewer 'exorbitant pricing'. 
If you're looking for an alternative to ZoomInfo for B2B contact data, here are 10 of the top competitors:
Datagenie is a comprehensive B2B contact data platform with 100& accurate email addresses across 100+ million contacts in 15 million companies globally.
An easy-to-use self-service B2B contact database with a free trial, boasting an impressive 500 million data points. DataGenie has a proprietary system that validates and verifies the email addresses in real-time, on download. 
Featuring a user-friendly browser extension, Datagenie streamlines the process of swiftly searching and extracting email addresses and contact information from prospects' LinkedIn profiles or their company websites.
Unlike its competitors, DataGenie provides a 100% guarantee on all data & packages start at only $99 pcm.
DiscoverOrg is one of the largest providers of B2B contact data and sales intelligence. They offer a database of over 235 million global contacts and 14 million companies. DiscoverOrg is a great all-in-one solution for Sales & Marketing teams with data, insights, monitoring, and orchestration capabilities.
DiscoverOrg gets data from 40,000 sources and uses machine learning to identify relationships and insights. They provide personalized alerts, a Chrome extension, and integrations with CRMs like Salesforce. Pricing starts at $5,000/month for 5 users. For mid-market and enterprise companies, DiscoverOrg is a very robust ZoomInfo competitor.
Seamless.AI uses AI to automatically build B2B contact databases and provide real-time data enrichment and lead recommendations. They offer over 200 million contacts and 14 million companies worldwide. Seamless is focused on using AI and machine learning to simplify the sales research process.
Seamless crawls the web to find professional contact information and profiles. Their AI then works to verify and enrich contact data with job titles, social links, email addresses, and more. Seamless integrates with tools like Salesloft, Outreach and Salesforce. Pricing starts at $50/user/month. For sales teams looking for an automated solution to build contact databases and generate leads, Seamless.AI is a compelling ZoomInfo alternative.
Get started with

Datagenie

B2B prospecting platform
Get instant access to a B2B leads database that has 100+ million business
emails in 15 million companies.
D&B Hoovers is a long-standing provider of sales intelligence and B2B data, covering over 240 million companies and 400 million contacts globally. They provide in-depth firmographic data, real-time alerts, and insights to help with lead generation and prospecting. As a Dun & Bradstreet company, D&B Hoovers offers high-quality, validated data.
D&B Hoovers offers robust company profiles including revenue, locations, key executives, subsidiaries, and more. They provide alerts on new leads, deals, and opportunities. D&B Hoovers integrates with major CRMs and sales tools. Subscription pricing ranges from $50 to $200 per user per month. For in-depth sales intelligence, D&B Hoovers is a reputable alternative to ZoomInfo.
Apollo.io helps build B2B contact databases through web scraping and data enrichment APIs. They offer 220 million contacts and 19 million companies in their database. Apollo focuses on serving developers and providing an API to access their data.
Apollo uses machine learning to identify and extract contact information from websites. Their API allows you to lookup contacts by name, company name or domain. Apollo integrates with many CRMs, email tools and sales automation platforms. Pricing starts at $99/month for 10K credits, each worth 1 contact data lookup. API plans with more credits and data access start at $499/month. For engineering teams looking to build a custom B2B database solution, Apollo.io provides a robust set of APIs and data.
Lusha is an AI-powered B2B sales intelligence platform with over 100 million business professional profiles. They automatically match contacts at target accounts using natural language processing and machine learning. Lusha integrates with tools like Salesforce, HubSpot, and Outreach to provide data enrichment and lead recommendations. Pricing starts at $60/user/month.
Klenty provides real-time sales intelligence to help teams prospect and close deals. They offer over 200 million contacts and 14 million company profiles. Klenty uses AI to analyze web data and provide news alerting, social connections, contact database building, and predictive lead scoring. Pricing starts at $49/user/month.
LeadIQ is a sales intelligence and lead generation tool with over 200 million B2B contacts and 10 million companies. They use web scraping and AI to build their contact database and provide real-time news and alerting, social insights, email verification, and more. LeadIQ integrates with major CRMs and pricing starts at $30/user/month.
Clearbit offers a suite of B2B data enrichment APIs with over 200 million contacts and 50 million companies. Developers can use Clearbit's APIs to lookup emails, names, domains and enrich contacts with social links, job titles, company details and more. Pricing starts at $0.01 per API call. For engineering teams building their own B2B solutions, Clearbit provides a robust set of data APIs.
Datanyze is a sales intelligence platform for B2B lead generation. They offer access to over 310 million contacts and 21 million company profiles. Datanyze uses web crawling and data algorithms to track IT purchases, product updates, and other technologies that companies are using. This allows them to identify leads that are in-market for various software solutions.
Datanyze provides real-time alerts to notify users of target prospect activity, news, and buying signals. They also rank leads with predictive lead scoring based on their likelihood of making a purchase. Pricing for Datanyze starts at $49/user/month. For companies focused on new business development and sales within the IT market, Datanyze is a strong prospecting data source and ZoomInfo competitor.