Guide to Acquiring Business Leads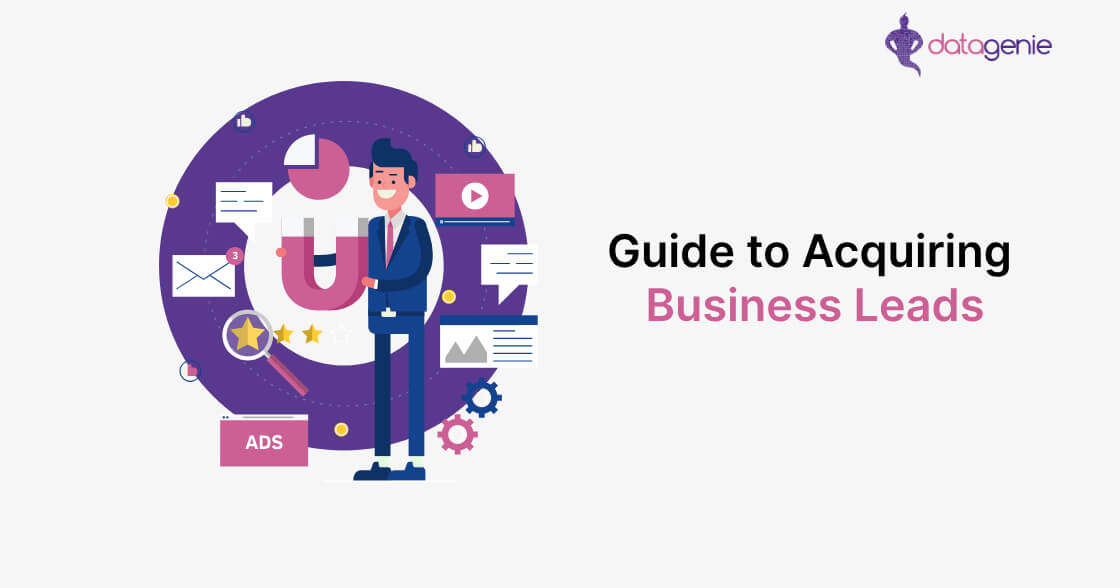 Every firm needs a steady stream of new leads to thrive in the competitive business landscape. This guide offers a blueprint to identify the right moments to gather information, understand the various leads available for purchase, and arm them with the essential knowledge needed before buying. It also presents an analysis of over 10+ platforms to find the best leads to boost business growth.
Considering buying leads but unsure? Is this the right time?
Here, the guide explores situations where buying leads could be a game-changer:
1.1 Depleted Pipeline
Keep a continuous stream of leads in the sales pipeline to sustain momentum. Regularly oversee all stages of the pipeline to prevent it from running dry.
1.2. Urgent Business Expansion
If the revenue graph is declining, act decisively. Quickly acquiring new leads might be the logical strategy to rejuvenate the business, especially for smaller firms with limited resources for extensive sales and marketing campaigns.
1.3 Initiating a Marketing Campaign
Preparing to launch a new product or target a new audience? Securing the right leads is crucial. Buy leads at the beginning of a campaign to ensure it reaches the intended audience and gets the attention it deserves.
2. Types of Leads to Purchase
Resolved to invest in leads? There are many categories available and popular ones include
2.1. Sales Leads
Many firms buy sales leads curated based on firmographic details to facilitate direct sales to high-potential prospects.
2.2. MLM Leads
Regular influx of new leads is vital for multi-level marketers to expand their product and service offerings to new demographics.
2.3. Real Estate Leads
In the competitive real estate sector, agents maintain a rich database of potential buyers and sellers. Learn tactics to construct a strong realtor email list.
2.4. SEO Leads
SEO agencies face stiff competition in lead generation. Many opt to buy SEO leads, a tactic proven effective in navigating the competitive environment.
2.5. Web Design Leads
In the web design industry, agencies often buy leads to secure a consistent flow of new clients. Discover the intricacies of effectively obtaining web design leads.
2.6. Business Loan Leads
Lenders in the business loan sector use leads to quickly identify businesses seeking financing, simplifying the lending process.
2.7. Franchise Leads
Franchisors and brokers regularly purchase leads, a common practice that helps meet and surpass their goals through a well-maintained lead database.
Get started with

Datagenie

B2B prospecting platform
Get instant access to a B2B leads database that has 100+ million business
emails in 15 million companies.
3. Before Buying Leads: What to Know
Ready to venture into lead buying? Focus on the essential aspects to be aware of before making a purchase:
3.1. Data Quality and Trustworthiness
Ensure the quality and trustworthiness of the data acquired. Source leads from reputable providers to avoid compromised data. Consider exploring review platforms and testimonials.
3.2. Understanding Pricing Dynamics
Different lead providers have varying pricing models. Find an offer that aligns with needs and budget through careful analysis.
3.3. Developing a Cold Outreach Strategy
Formulate a robust outreach strategy to engage effectively with newly acquired leads. Craft well-defined strategies to build meaningful relationships and benefit from the investment.
3.4. Secure Premium Leads Affordably
This guide equips them with the knowledge to make informed decisions in lead purchasing. The market offers numerous opportunities to find and secure high-quality leads that can revolutionize the business.
Consider Datagenie, a B2B prospecting leader known for supplying 100% accurate leads. Datagenie stands as a pillar of reliability, offering verified leads ripe for conversion, helping turn prospects into loyal customers with ease and efficiency.
Start a free trial with Datagenie today and seize the opportunity to find, connect, and engage with prospects ready to make a purchase. Experience the Datagenie difference today!